When it comes to how to start an online store, there are two leading solutions that really are head and shoulders above the rest: WooCommerce vs Shopify. But if you're trying to choose between WooCommerce and Shopify, how do you know which one is for you? Should you switch from Shopify to WooCommerce or vice versa?
Apparently, no platform is ever perfect. For most of the time, they come with a set of great features as well as a set of limits. The important thing is to make sure the platform you opt for has everything you need.
There exists an array of pros and cons of WooCommerce and Shopify that are worth acknowledging before setting foot into the world of eCommerce. In this article, we will walk you through:
An overview of WooCommerce and Shopify
The key differences between the two solutions
Pros and cons of WooCommerce and Shopify.
Overview
WooCommerce vs Shopify both have the advantages and the disadvantages, so before we discuss the in-depth comparison of the two robust shopping carts, let's quickly cover some basics and highlight what makes these platforms stand out.
What is WooCommerce?
WooCommerce is an open-source eCommerce platform built for WordPress. Therefore, it provides you with the most powerful content management system (CMS) to run an online store. Thanks to its open-source nature, you can customize every aspect of your store and build custom extensions. Let check the WooCommerce Review to know more about this outstanding platform.
What is Shopify?
Shopify is a hosted eCommerce platform that helps you to create an online store without worrying about technical knowledge, every aspect is included in the Shopify plan such as hosting, security, domain, etc. You only need to buy the Shopify package and then you can start monetizing it right away.
Let's check out our Shopify vs WooCommerce comparison video.https://www.youtube.com/embed/cOrgnqVbBXE?start=3&feature=oembed
Now, let's compare WooCommerce vs Shopify to see which one is the absolute best!
WooCommerce vs Shopify – 13 things that make a difference
Here is the summary of the pros and cons of these two platforms. Before going into details, let's take a brief look at this infographic!
1. WooCommerce vs Shopify – Pricing
WooCommerce pricing
Being an open-source WordPress plug-in, WooCommerce itself is free. But a domain name (about $12/year), and hosting are needed ($5-$25 monthly). WooCommerce pricing may require extras like a theme (~$59), plugins & extensions (from $25 each), and developer fees.
Of course, you might not need all these features mentioned here so the WooCommerce pricing may vary, but this will give you a good idea of what you should consider.
Shopify pricing
On the other hand, as a hosted platform, Shopify offers the full package for your online store. A complete solution! Do not even bother finding any hosting or theme provider, cause Shopify has them all. Of course, this comes with monthly and annual plans.
Below are the details of Shopify fees:
Basic Shopify is best for merchants who want to dip their toes into online selling. With $29 per month, you'll get all the core eCommerce functionalities.
The Shopify plan costs $79 and gives you everything needed for growing businesses.
Advanced Shopify costs $299 per month, and comes with the most advanced features. This plan is a good fit for medium, large-scale businesses.
Shopify Lite is one of the cheapest ways of selling online, costing $9 per month and allowing you to sell an unlimited number of items. However, this plan is not a suitable option if you want to construct a fully-functional online store.
Shopify Plus is the cream of the crop for enterprise or high-volume businesses. With the starting price of $2000 a month, you'll get tons of amazing features such as advanced security features or extensive options for selling in multiple currencies.
Besides, you can try out Shopify without spending a penny as this platform offers a 14-day free trial. Especially, if you pay upfront you can avail of a discount – 10% if you pay for 1 year and 20% if you pay for two.
Overall, WooCommerce is technically the cheaper solution as the software itself is free. Nevertheless, running an actual eCommerce store on WooCommerce basically costs the same as Shopify, if not more. You'll need to pay for some extra fees such as domain, hosting; not to mention, every additional extension comes with a price tag.
2. WooCommerce vs Shopify – Page Speed
Shoppers, no matter how interested they are, are not willing to wait for around more than a few seconds. If your site is slowly-loading, you stand to lose not only current but future customers as well.
Hence, when determining the right platform for your online store, you definitely should take WooCommerce vs Shopify page speed into account.
WooCommerce Page Speed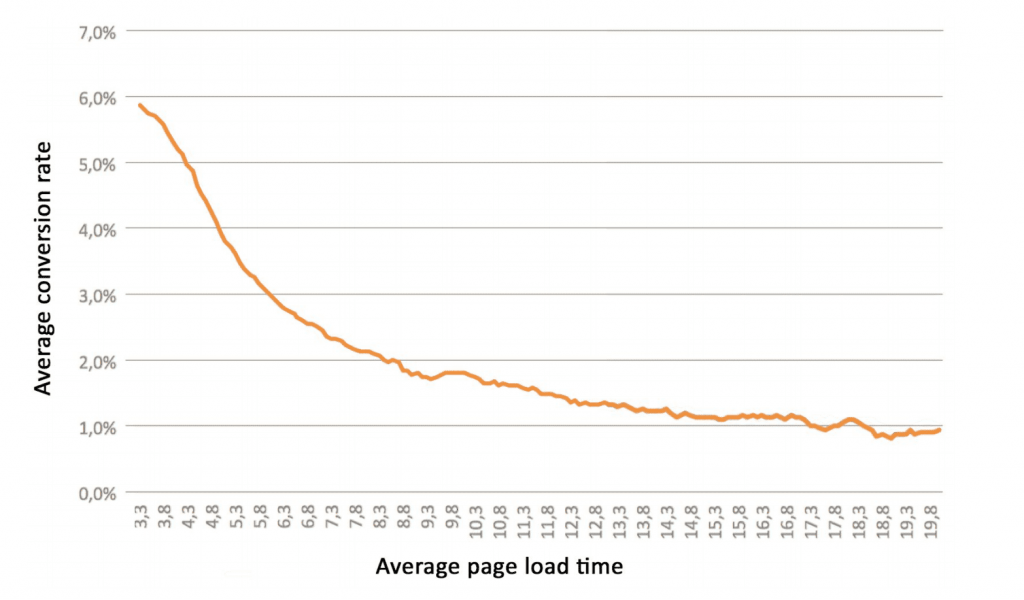 The performance test gathered from this study showed that WooCommerce is actually rather slow. The average page loading time of all monitored stores reached 776 milliseconds, and the average cart page loads in 1.32 seconds!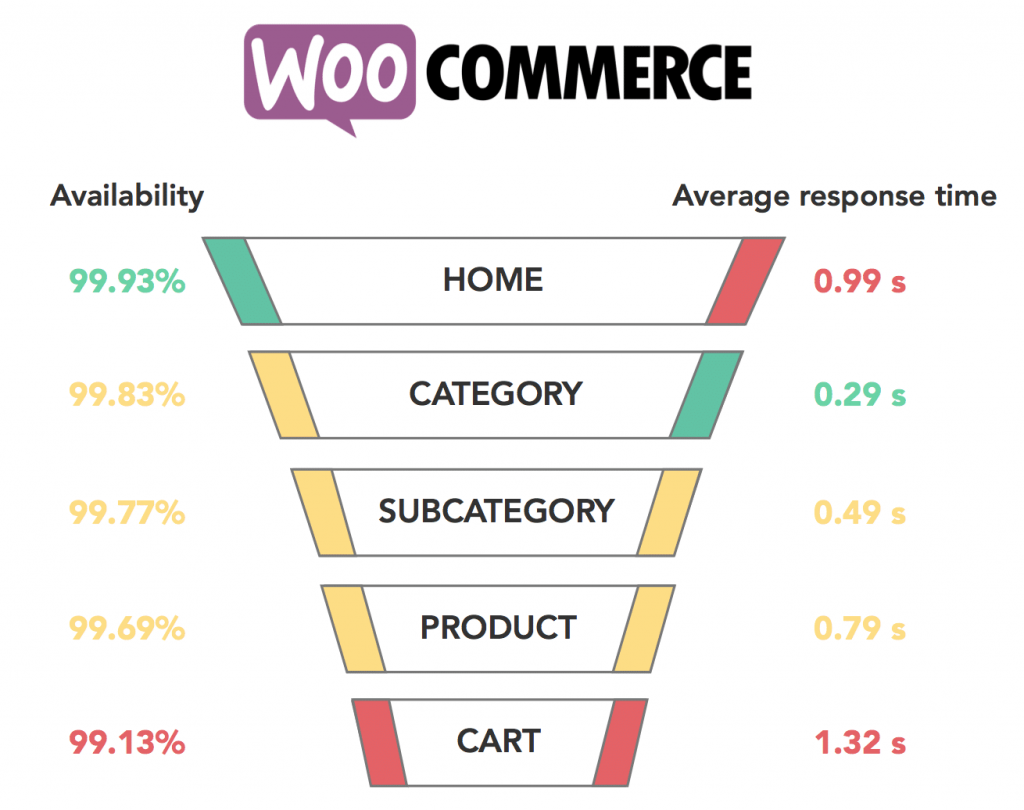 Shopify Page Speed
In contrast, Shopify's web pages load in 309 milliseconds, the ideal loading time for any website since Google recommends an average of 500 milliseconds of loading time! In the light of its fast response times, Shopify delivers a very good overall user experience.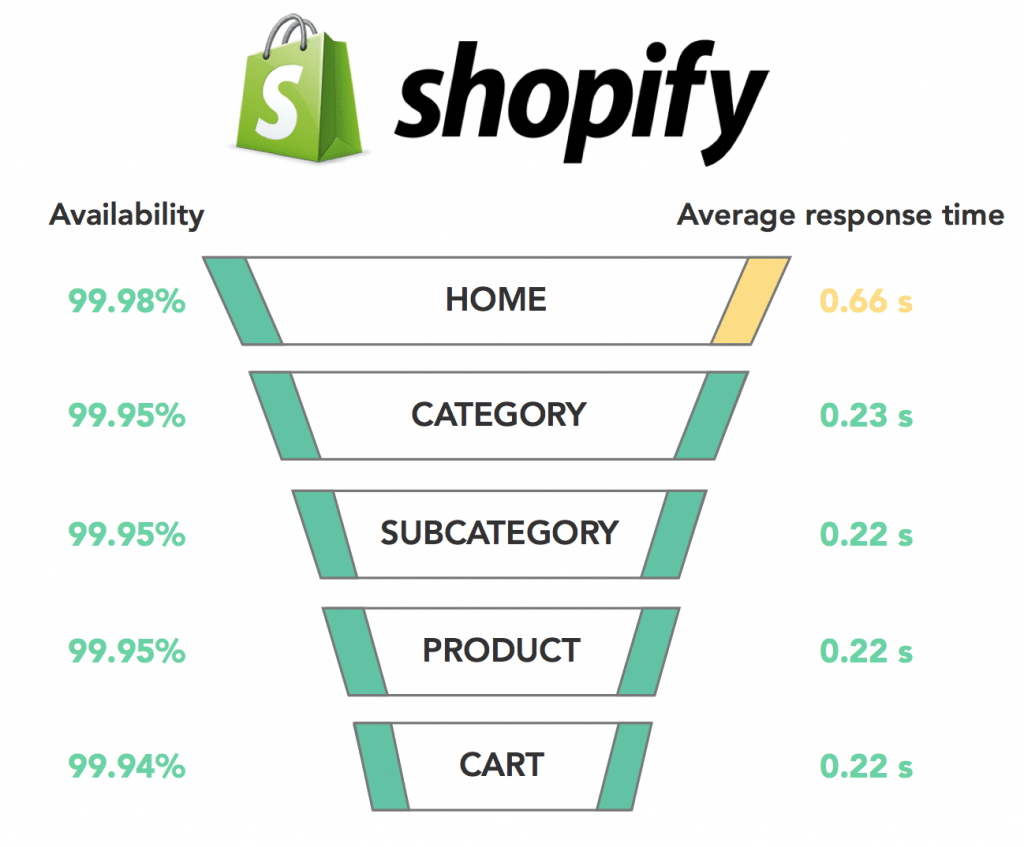 Optimizing loading time in WooCommerce is up to you and the hosting plan you're on. If you choose to go for those cheap $2 hosting, you cannot expect it to be fast no matter how much you pay for SEO experts to level up your site for you.
From the above-mentioned statistics, it can be concluded that when it comes to page speed, Shopify definitely surpasses WooCommerce.
3. WooCommerce vs Shopify – Ease of use
Most users starting an online store are not web designers or developers. Even users who are familiar with basic concepts need a platform that is easy to set up and operate.
Let's see how WooCommerce vs Shopify stacks up in terms of user-friendliness.
WooCommerce Ease of Use
WooCommerce is not a hosted platform, so you have to handle a couple of things like install, manage updates, keep backups and make sure that your store is secure.
Setting up WooCommerce is quite complex because you need to install WordPress first. Following these steps to institute WordPress:
Get a domain name on WordPress
Sign up for a hosting account
Install WordPress
Find and install a WordPress theme.
Here's our tutorial video to help you set up your WooCommerce store with ease.https://www.youtube.com/embed/2JLuEKYJhsY?feature=oembed
After you have been through these steps, you can set up the WooCommerce plugin on your WordPress platform. When WooCommerce is activated, the on-screen setup wizard will appear, you need to complete five steps to run your store.
We highly recommend you choose a trusted WordPress hosting service that will take care of the whole setting process for you from hosting, domain and WordPress installation, cause those steps do need some level of web-related things.
Shopify Ease of Use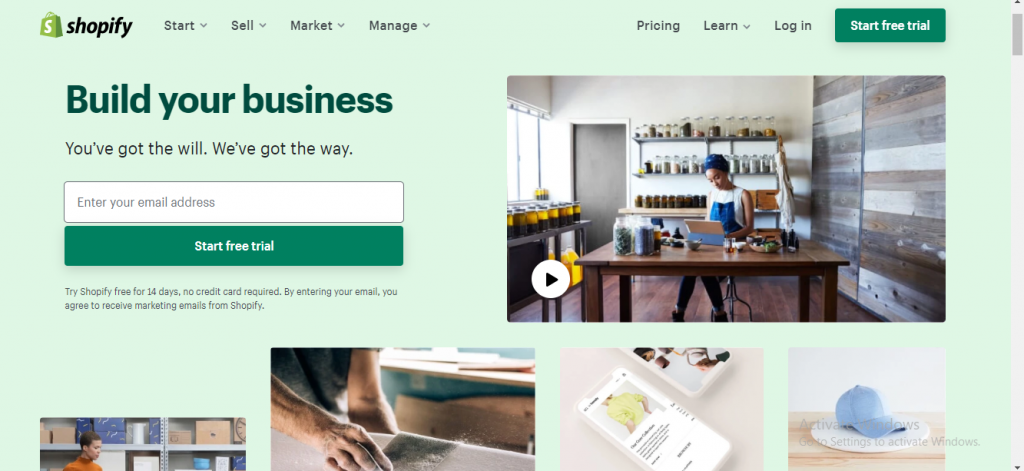 The main advantage of Shopify is a built-in online store, so almost all things are intuitive. Thanks to its ergonomic interface, setting up and managing stores on Shopify feel like a breeze.
To start with Shopify, first go to Shopify.com, simply sign up, go through some basic set-up instructions then start selling. Shopify is designed for all owners, even for those who have no coding knowledge.
As you can see, in terms of ease of use, Shopify absolutely edges over WooCommerce. WooCommerce is tailored to techies and professional web developers whilst Shopify is targeted to newbies with little technical expertise.
4. WooCommerce vs Shopify – Design
When it comes to themes, we all understand that it's an important factor in attracting customers. The first impression of customers is of significant importance. It has the ability to make or break a business, and a positive experience can create long-lasting business relationships.
Let's see how extraordinary WooCommerce vs Shopify themes are.
WooCommerce Design
Regarding the design and template of WooCommerce, it's synonymous with a whole new world appearing in front of your eyes, there's a bunch of stunning things to choose from. WooCommerce has been set up to cooperate with almost all themes on the market, this means, in most cases, you can select any WordPress theme and still make it work with WooCommerce. If you can't decide which theme to pick, let's check out the best WooCommerce themes in 2021 for some suggestions.
Shopify Design
Currently, Shopify is offering 73 options for templates, 9 of which are free.
What's more, each of the themes on Shopify has specific variations. Hence, you are getting more than 100 different designs technically.
Created by a group of professional website designers, Shopify themes are generally elegant and tidy yet feature-rich and mobile-friendly.
Aside from that, these themes can be easily customized from your Shopify admin by using the Liquid code and the theme editor. Good news is the theme editor can now help you make the changes you need much faster thanks to recent upgrades on editing workflow and theme load times.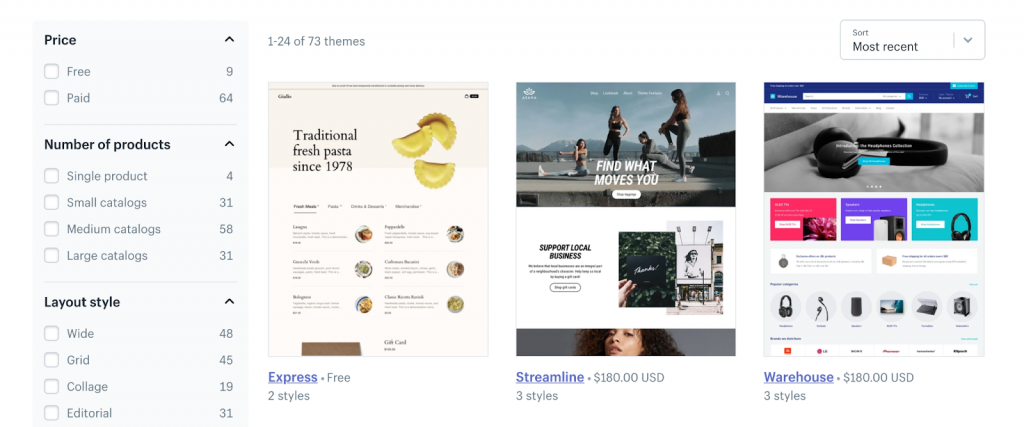 What it all comes down to is that Shopify has magnificent themes but they are limited to what you can find in its theme store. WooCommerce, on the other hand, has a plethora of wonderful themes designed by a vibrant community of developers and freelancers.
5. WooCommerce vs Shopify – Inventory Management
WooCommerce Inventory Management
This platform offers a great degree of flexibility and its inventory management feature is no exception. This platform allows its users to create inventory reports and make changes to any attributes of products. Basically, there are no limitations on how many variable products you can create and manage.
Nevertheless, you will need the assistance of third-party apps to bring out the best of your WooCommerce store performance.
Shopify Inventory Management
Similar to WooCommerce, Shopify empowers merchants with full control over the inventory tracking system. Under the hood, you can track stock, easily access to stock alerts, automated purchase orders, in-house revenue reports and so on. In addition, with Shopify, you can add single or buck items as well as customers, orders and other pieces of data manually or with the help of CSV files. Shopify users can also take advantage of a huge chunk of inventory apps available to run business seamlessly.
6. WooCommerce vs Shopify – Blogs and Content
WooCommerce Blogs and Content
Blogs and Content are where WooCommerce shows off its muscles. It inherits all innovative writing blog functions from WordPress, the most trusted content management system.
Accordingly, you are able to create a blog for WooCommerce by adding a post right from the WordPress Admin dashboard. Also, you can improve customers' blogging experience by utilizing templates on Storefront – WooCommerce default store design or purchasing nicely-designed blog templates on ThemeForest.
Shopify Blogs and Content
With Shopify, blog is a standard feature. Setting up a blog and creating a blog post on Shopify do not require much effort and time investment. In fact, you can easily personalize your blog design through Shopify's site design theme. Or you can reach out for some apps like PageFly, which is the most popular Shopify app for more customization options and creating landing pages.
7. WooCommerce vs Shopify – SEO
SEO is one of the best ways to ensure your customers find you. Without them finding you, you make no sales. It will be a waste of time, effort, and money on your part.
To fully analyze the SEO capabilities of the two platforms, certain criteria need taking into account, such as:
SSL Certificates
Auto XML Sitemap
301 Redirects
Apps and Plugins for SEO
WooCommerce SEO
Being built on a dedicated blogging platform, SEO is definitely WooCommerce's advantage. With the WordPress editor, WooCommerce users can alter body content, basic URL redirections, meta descriptions, alt tags, and other page elements to optimize product pages. At the same time, WooCommerce also offers numerous SEO plugins that allow you to optimize your store, and Yoast SEO is considered the most well-known SEO plugin.
Shopify SEO
Conversely, Shopify has some limitations when it comes to SEO. In fact, Shopify users are not able to fully customize their URLs. This is due to the fact that Shopify has a rigid URL structure and some sections of your store URLs cannot be modified. Moreover, it is quite difficult to create sub-categories on this platform.
Nevertheless, Shopify has all the core features you need for eCommerce SEO, and they're generally quite simple to make use of. SEO apps for Shopify are also well-known for their simplicity in installing and operating.
8. WooCommerce vs Shopify – Integrations
There are many free integrations. Marketing automation is one of them. Both WooCommerce and Shopify do this, so no edge over each other here. You can use MailChimp, Conversio, Klaviyo, Drip, etc in order to send automatic and personalized emails to increase customer loyalty as well as incentivize recurring purchases.
If you want to sync your online shop to your social media store to have shoppable posts on Instagram and Facebook or Google, you can have that in a few slick clicks. However, Shopify does this better, especially if you're going to use Pinterest.
You can count on WooCommerce when it comes to syncing your shop with Amazon, eBay, and social media sites like Facebook. You can manage your channels from your WordPress dashboard with free extensions that are certified by the platform for that. Unfortunately, the list doesn't include Google Shopping.
9. WooCommerce vs Shopify – Plugins
Regardless of how robust an e-commerce platform is, you'll always need to add some extensions to boost your store. For example, email marketing software, lead generation tool, analytics tools, outreach services, etc. Luckily, WooCommerce vs Shopify both offer a massive directory of plugins and integrate with many third-party services.
WooCommerce plugins
As a plugin running on WordPress, WooCommerce users can access to the WordPress's humongous plugin repository which has over 58,000 free and paid plugins across all your logistical, technical, and marketing needs. Apart from that, WooCommerce offers 592 extensions specifically designed for eCommerce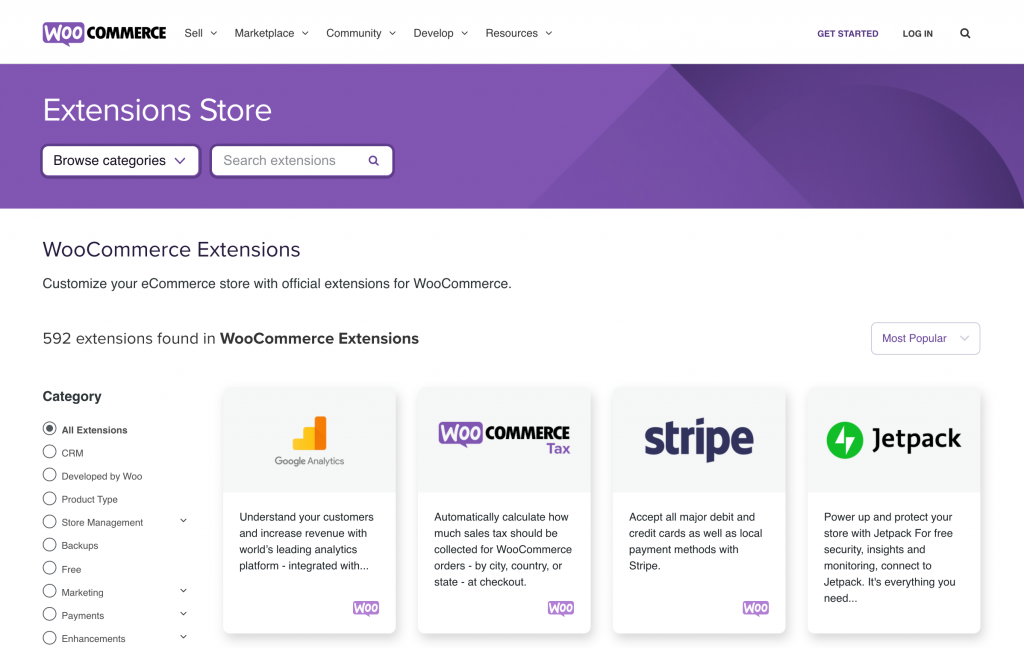 WooCommerce Extensions Store
Shopify plugins
Shopify is packed with 5899 apps and extensions which were developed by both in-house team and third-party developers. The huge chunk of apps on its store are divided into different categories such as inventory management, orders & shipping, sales & conversion, etc. All these extensions support you to monitor your eStore seamlessly as well as drive more traffic and sales.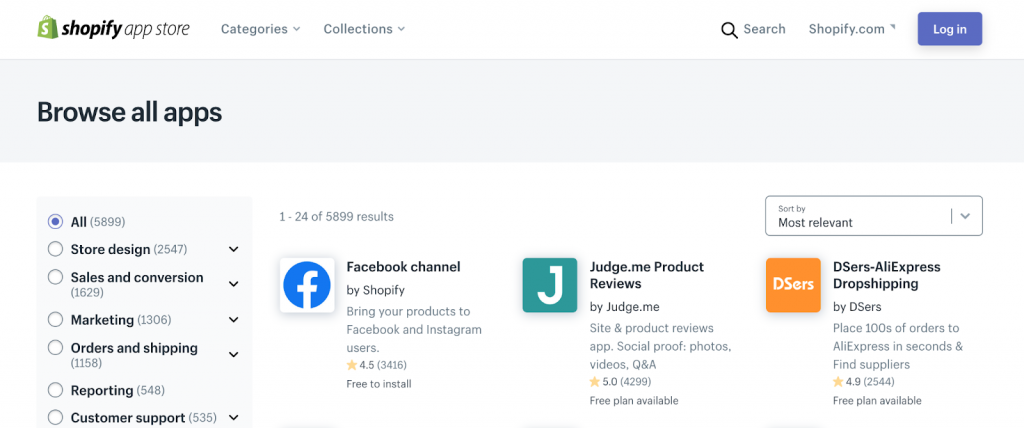 10. WooCommerce vs Shopify – Payment Gateways
It is an undeniable fact that the processing of payment is the center of your eCommerce business. Irrespective of the type of products or services you deal with, the ultimate goal is always to convert visitors and facilitate their subsequent transactions. Luckily, WooCommerce vs Shopify both offers a wide variety of tools to help you with this.
WooCommerce Payment Gateways
WooCommerce offers default payments to PayPal and Stripe, two tested payment processors. The bulk of WooCommerce online stores should be comfortable with either of the two solutions right off the bat. So, you don't even need a bank account to get things up. In case you want to try another service, WooCommerce is more than willing to let you proceed freely, it also supports all other popular payment service providers through add-ons.
WooCommerce has support for many regional and less popular payment services for payment gateways. Since there is no barrier to entry, every payment company can build and support add-ons for WooCommerce. You are only charged transaction fees by your payment gateway or bank. WooCommerce will never charge you a percent of transaction fee, the corresponding payment processors will do so. However, its fees differ from one provider to another.
If you sell a large volume of products, WooCommerce might make sense, this is a nice plus right?
Shopify Payment Gateways
Shopify is offering more than 100 Payment Gateways for you to choose from, but you need to pay a transaction fee of 0.5-2 percent depending on the monthly plan you purchase, the higher plan you choose, the lower the transaction fee you pay for Shopify.
For example, you will reduce the transaction costs to 0.5 percent by purchasing $299 a month for an advanced Shopify plan.
Shopify also has its payment processor called Shopify Payments which is totally free and super straightforward. With Shopify Payments, you no longer have to go through a third-party provider and be approved for a merchant account before you can process payments. And once you have done setting up Shopify Payments, your finances will be automatically synced up with your sales and inventory.
Furthermore, if you're selling internationally, there are some Shopify features that can significantly support your business. For instance, with the new update, Shopify will automatically calculate and include tax in product prices based on your customer's country.
Also, Shopify allows pricing control by region with international pricing. It means that you can choose specific prices per product, per country or region.
11. WooCommerce vs Shopify – Dropshipping
Dropshipping is an order fulfillment method that does not require merchants to keep goods in stock. Instead, whenever there is a new order, the retailer will purchase the item from a supplier and have it directly delivered to the customer. Dropshipping is now gaining popularity thanks to its low overhead.
WooCommerce Dropshipping
WooCommerce is a favorable choice for dropshipping companies. With WooCommerce dropshippers can pay for plugins that support instantly import products, complete orders from your website, and more. The majority of those apps share the same functions. However, standing out from the crowd is DropshipMe with over 8000 active installations.
Shopify Dropshipping
Currently, Shopify has integration apps for several popular dropshipping markets. Among those, Dropified and Oberlo are two of the most well-known. No matter which app you choose for your Shopify store (Printify or Yakkyofy), you will greatly benefit from Shopify's robust features to grow your dropshipping business.
12. WooCommerce vs Shopify – Security
Security is a huge concern when running an online business. Hence, it is no surprise when lots of merchants come up with the question "WooCommerce vs Shopify which is better for security?".
In fact, regarding security and data safety, there's less to worry about when opting for a hosted eCommerce solution in lieu of an open-source platform. In other words, Shopify apparently outperforms WooCommerce in the security department.
WooCommerce Security
With WooCommerce, most of the security falls in your own hands. In greater details, you will have to get your own SSL certificate, configure your site security plugins, two-factor authentication, PCI compliant and some other things to protect your site, all by yourself.
Shopify Security
Shopify, on the other hand, completely takes care of updates and security issues in the background. This platform comes with an SSL certificate built-in for free meaning all data transferred between you and your clients is encrypted. Shopify system also runs on Level 1 PCI compliant server which is mandatory to accept credit card and debit card details.
13. WooCommerce vs Shopify – Support
WooCommerce Support
Just like most of the open-source eCommerce solutions out there, WooCommerce doesn't support live chat, phone and email.
However, for merchants who want to take control of their own support strategy, WooCommerce does provide plenty of resources. This platform provides assistance in WooCommerce Docs, and an FAQ section where you could find answers to almost every common question. Furthermore, thanks to its large user base, WooCommerce users are able to seek support from a vibrant community of peers, developers, and WooExperts in a heartbeat in case unwanted contingency happens.
Shopify Support
Shopify, on the contrary, is renowned for its excellent customer support which is available 24/7 for phone, email, and live chat. Other than that, Shopify has an enormous database of FAQs as well as Shopify Forum that is always willing to give you a helping hand.
Conclusion
We have come a long way to review WooCommerce vs Shopify and its features. It is time for the final verdict.
If you're looking for a solution with handy SEO features, definitely go for WooCommerce. Also, if you want more help with your design, don't mind tinkering, or your major marketing plan is to drive traffic through content for search engines, then choose WooCommerce.
If you're new to eCommerce or you don't want to bother about technical details, go for Shopify. Also, if you're looking to test things and try a few products, go for Shopify.
However, we do acknowledge that choosing the right platform for your online business is not an easy feat. Hence, before making the final decision, we recommend you spend some more time looking further into our thorough WooCommerce analysis as well as our detailed Shopify review.
Finally, if you find your existing website no longer compatible with online business and wish to migrate from WooCommerce to Shopify or vice versa, LitExtension is at your service. LitExtension is designed for all users and requires no technical and programming skills. Currently, we are supporting migration for over 80 carts including Shopify migration, WooCommerce migration, and more specifically Shopify to WooCommerce or WooCommerce to Shopify.