This comprehensive BigCommerce review will help you to capture the big picture of what this website builder can do and how it can benefit your E-store. We will be focusing on analyzing all the key points as well as core functions needed for an online business so you can decide whether or not BigCommerce is a good choice to go with. Keep reading to get:
What is BigCommerce? What are the Pros and Cons
How much does BigCommerce cost?
Detailed analysis of BigCommece SEO, eCommerce, and marketing features
The answer to your burning question "Is BigCommerce a suitable choice for your business?
1. BigCommerce Review – What is BigCommerce?
BigCommerce is a dynamic all-in-one hosted eCommerce solution. That means everything is already set up for you. The only thing you need to do is sign up. Then, you can start personalizing your eCommerce store and monetizing it right away.
The platform offers top-quality features including product management, order fulfillment, online payments, analytics, etc. Furthermore, it provides professionally designed themes, with much room for customization. Besides, BigCommerce also handles its security excellently.
In brief, BigCommerce is highly optimized to host stores with hundreds or thousands of products. Therefore, it can be considered to be the best suited for someone who's growing fast and wants to operate at scale.
Here's a quick comparison among BigCommerce, Shopify and Squarespace for you to get a brief overview of this hosted eCommerce platform
2. How much does BigCommerce cost?
This BigCommerce review will analyze intensively the cost of this hosted solution. BigCommerce pricing varies according to the number of your sales per year. It offers 3 monthly price plans, suitable for all business scales. Its most basic one starts at $29.95 and the costliest is $224.95 a month. Regardless of the plan you choose, your store will include a fully responsive site, one-page checkout, digital wallets, basic SEO tools, and robust analytics. And one of the biggest advantages of BigCommerce is that there is no transaction fee. If you opt for paying annually instead of monthly, you'll even get a 10% discount.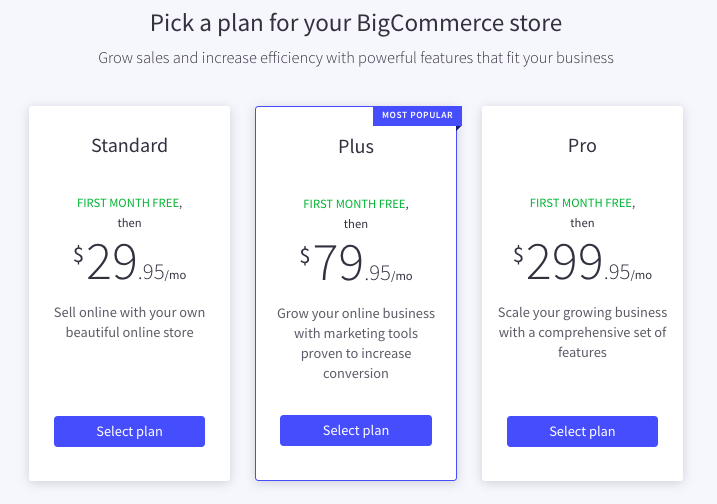 But if you don't want to spend any cents right now, it also provides a 15-day free trial. However, your customers won't be able to purchase anything from you if you're on this plan.
One more thing to take into consideration when it comes to BigCommerce pricing is that each plan has a threshold limit.
| | |
| --- | --- |
| Plans | Threshold |
| Standard Plan | $50,000/ 1 year |
| Plus Plan | $180,000/ 1 year |
| Pro Plan | $450,000/ 1 year |
For Standard Plan and Plus Plan, you can only earn less than $50,000 and less than $180,000 a year respectively. Then, if you sell more than that, you'll need to upgrade to the Pro Plan. The Pro Plan costs $299.95 if your store brings in no more than $450,000 a month. When you surpass that threshold, you'll pay at least $150 more per month for each additional $200,000 in sales.
Additionally, BigCommerce does have an Enterprise Plan designed for huge companies. Its price depends on the features you want to have in your store. But you can expect all of the Plus Plan features, along with a dedicated SSL and IP address, priority support, product filtering, advanced reporting tools, Google trusted stores and so much more.
Difference Between Plans Of BigCommerce Pricing
Standard Plan
This would be a good start if you're looking for feature-rich plans with a fair price to open a new business. The standard plan is best for small-sized stores with annual sales below $50k. It comes with a generous number of features packed in, such as unlimited products, bandwidth, file storage, and staff accounts plus zero transaction fee. On top of that, you can sell across multi-channels including Amazon, eBay, Walmart, Facebook, Instagram, and Google shopping.
Plus plan
This plan is a good fit for growing businesses with revenue up to $180k/year. Merchants will have a full set of features from the standard plan plus some extra tools to boost sales and increase conversion rate including:
Abandoned cart saver: This is a must-have tool for any online store. It allows you to send automated email invitations to customers who have added an item to their cart but left before completing checkout. As a result, this built-in feature can help you win back customers and boost your sales.
Stored credit cards: Simplify the check-out process for your shoppers by allowing them to store their credit card information.
Pro plan
The Pro plan is made for big businesses with a big budget with a revenue threshold limit of $450k. With this plan, you will have all the features included in the Standard and Plus plan in addition to some of the best functions so you can take your store to the next level:
Custom SSL: Let you install an SSL purchased from a third party on your BigCommerce store.
Product filtering: Bring more convenience for the customer when it comes to finding products on your site by allowing them to search by size, color, or brand
3. Payment Gateways
BigCommerce offers three ways to accept credit card payments including Paypal powered by Braintree – BigCommerce default payment option, third-party payment processors, and Square POS (for brick and mortar business)
Paypal powered by Braintree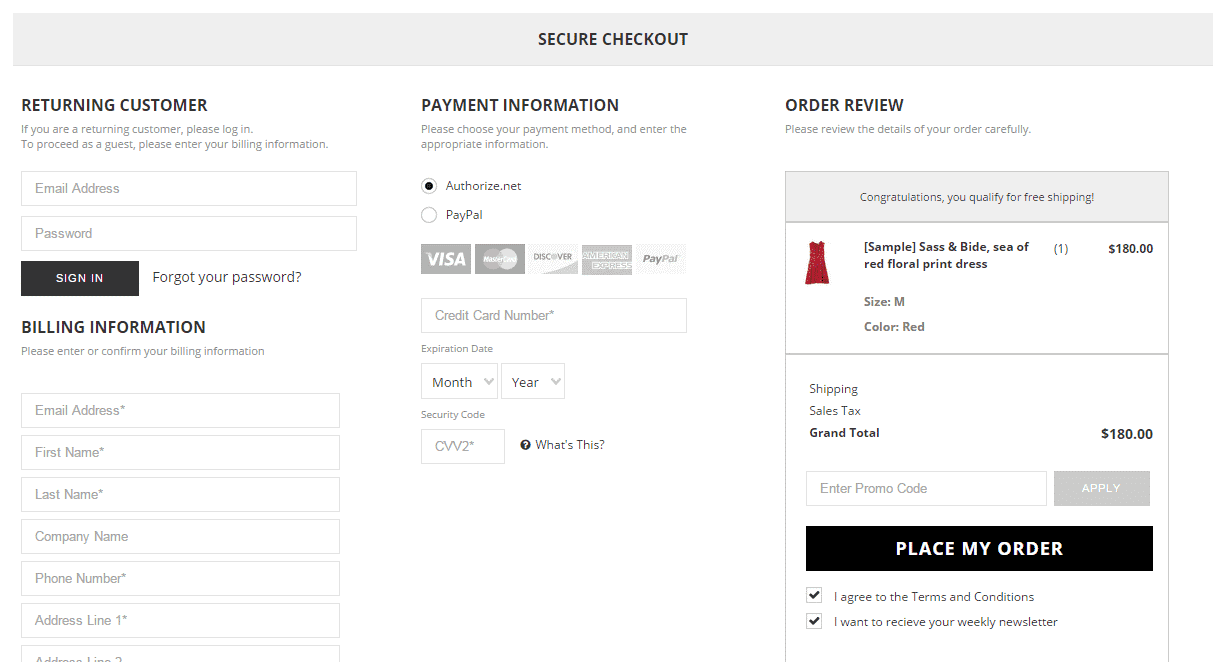 The default payment option provided by BigCommerce brings you more benefits than a third-party payment gateway. Those include one-page check-out, or preferential Paypal rates for credit card transactions which depend on your pricing plan:
Standard: 2.9% + 30c
Plus: 2.5% + 30c
Pro: 2.2% + 30c
Using a Third-Party payment method
Additionally, you can also use a payment gateway integration. Currently, BigCommerce provides more than 65 payment gateway integrations available out-of-the-box. Additionally, some of the most popular digital and mobile wallets such as Apple Pay, Amazon Pay, Venmo, and more are also integrated.
Here is the list of the best-supported features from BigCommerce to manage your payment process:
Capture — You can authorize transactions without actually withdrawing funds from the customer's account until you approve it. One of the most significant benefits of this function is that the cardholder cannot dispute a transaction or issue a chargeback if funds have not been captured.
Refunds — BigCommerce lets you choose the refund type (individual product or order level refund). There are two options for you: issue a full or partial order refund. These features make it much easier for you to categorize as well as manage the refund status
Stored Credit Cards — This allows you to safely and securely store shoppers' credit card details, so they can get through the checkout process quickly and easily. Please notice that you need to be on the plus plan or higher to enable this function.
BigCommerce POS – Square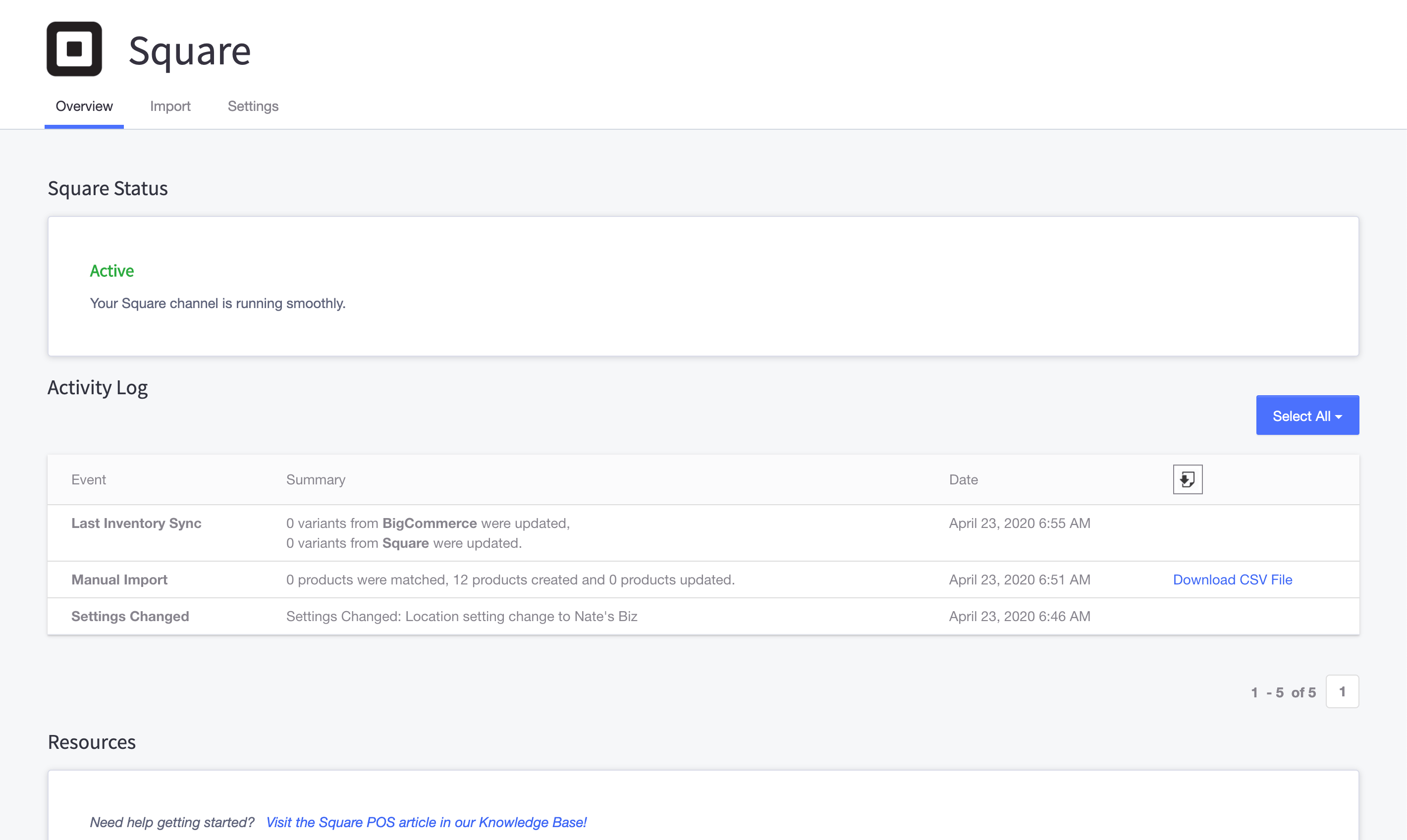 BigCommerce POS or Square is a free app that allows you to expand your brick and mortar business into E-commerce. Here is the list of some of its best features:
Import product to BigCommerce: You can easily create a new product and import it into your BigCommerce online store. Moreover, you can even put the whole Square item catalog into BigCommerce's storefront with just a single click.
Export product to Square: You can also export your products from BigCommerce online store into Square POS. This could be an amazing function if you're mainly operating at your brick-and-mortar store.
Synchronize inventory: The Square POS app will keep your stock in sync between your online store and POS every 5 minutes. Hence, you can easily manage both of them at the same time.
4. BigCommerce SEO
If SEO is one of your top priorities, BigCommerce is a great option. Amongst the hosted solutions like Volusion, BigCommerce, Wix, and Squarespace — BigCommerce is possibly a class leader in the SEO department. Why? Because while BigCommerce provides an enormous amount of out-of-the-box features with a high loading speed, others are heavily dependent on Add-ons or Third-Party integrations which might decrease your sites' performance. According to Quanta, BigCommerce's average response time is 0,50s. That means BigCommerce is a quite fast platform. This response time matches exactly the speed recommendation of Google
Some of the best functions of BigCommerce SEO that will help your website rank higher on SERPs:
Security: SSL certificate is included with each BigCommerce plan.
SEO-friendly URL structure: URL structures can be adjusted for products, web pages, and categories. It can be long, short, or custom URLs depending on your priority.SEO friendly URL structure
Mobile-friendliness: All BigCommerce templates are responsive for desktops, mobile, and tablets. Moreover, the Stencil template supports AMP format for both products and pages out of the box which made your page load faster.
Microdata: This is also known as "Rich Snippets". Most Bigcommerce themes incorporate microdata. With this function, you can enhance your search result listings with information like ratings, pricing, brand, and stock levels.Microdata
On Page-SEO: BigCommerce makes it very easy to adjust page titles, metadata, and headings — one of the key elements that search engines consider when categorizing your site for search results.
5. Mobile Commerce
BigCommerce Mobile App is available for Apple App Store and Google Play Store. It gives you the opportunity to manage your store on the go. You can check and update orders, view key performance metrics, monitor products and search for customers on all of your BigCommerce stores.
Some of the best features that help you monitor your E-store effectively on your phone:
Store Performance Details: You can grab an overview of your store including your store's revenue, orders, customers, and conversion rate by day, week, month, or year.
Customer Management: Allow you to access the list of all your customers, view and search for detailed information of individual buyers (personal info and order history). Moreover, you can reach out to customers here via in-app phone and email links.
Order management: you can access individual orders, update the order status
Catalog management: Monitor all of your products, add new products, modify product inventory, arrange products into specific categories, add images, and control product visibility on your storefront.
6. Ease of Use
BigCommerce has all the features needed to get you started. It's not too difficult to use but it's definitely not for the non-techie. On the first time landing on BigCommerce's dashboard, there will be tutorials to get you through the process. Those steps will help you set up a basic store. For example, you can add products, configure shipping settings and manage your tax rates. After that, the customization gets more complex.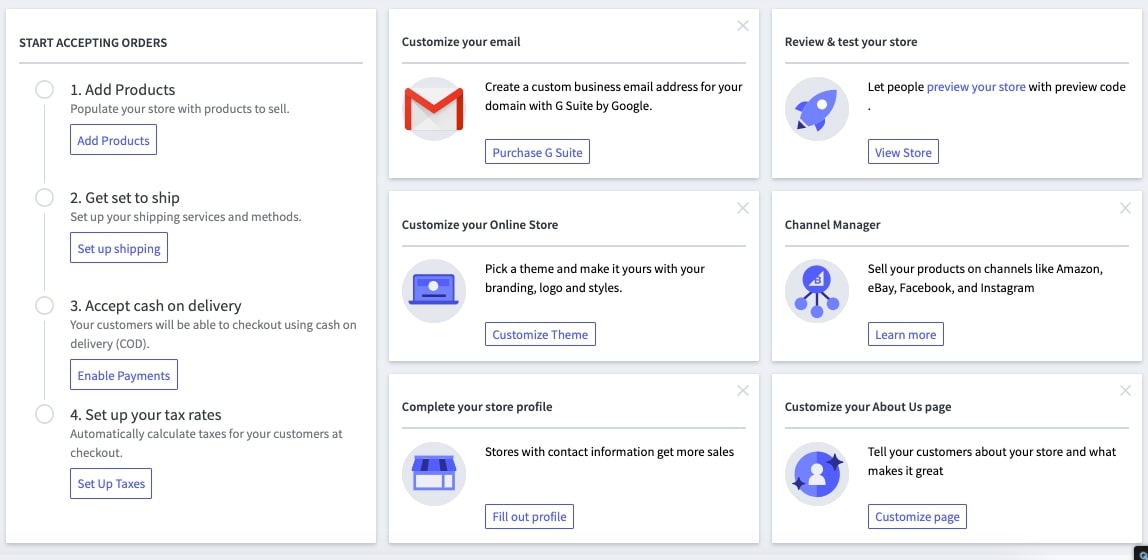 The platform is currently using the Stencil framework, which is friendly for advanced developers only. So if you can afford to hire a developer, there is nothing to worry about. However, non-technical users will find it difficult to tweak it at their will, something that's necessary for the average entrepreneur.
The main reason people struggle with BigCommerce is its design interface. It splits into two areas. One is where you control the "behind the scenes" parts of your store – for example, products and discounts, while the other is for storefront customization.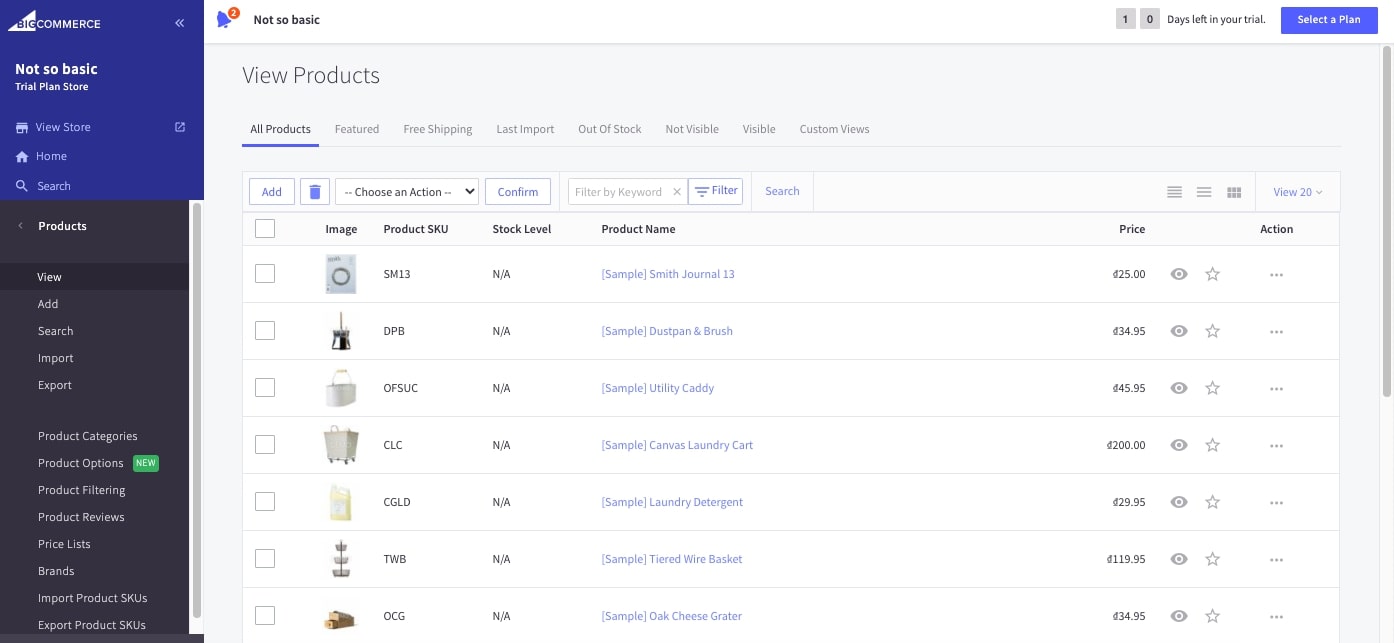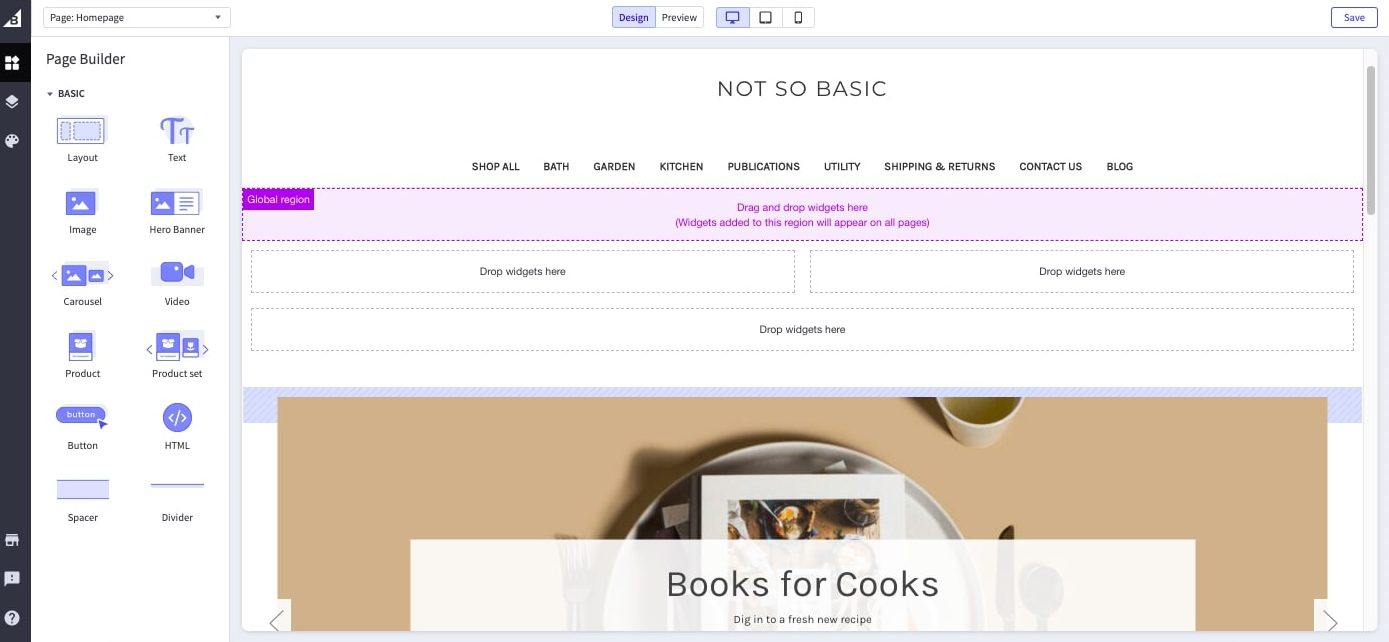 But the good news is, BigCommerce has recently introduced their new page builder which facilitates the customization process for non-techies. The tool provides access to your theme's template files for advanced template editing. You can easily drag and drop content into pages, like text blocks, videos, banners, buttons, blocks of custom HTML, etc.
However, one remaining problem is its terminology. You need to be familiar with the technical terms beforehand, or else you will need a lot of time figuring out what they mean.
In brief, great power comes with great complexity. Hence, BigCommerce isn't ideal for anyone who's not tech-savvy.
7. Themes & Customization
BigCommerce offers an impressive array of templates for varying budgets. Beginners with a low budget can start with its 12 free themes. But if your wallet is thicker, there are over 100 paid themes to choose from, ranging between $145 and $235. They are all very responsive, stylish and easy to work with. However, since most of the themes come from a single company, which is Pixel Union, there's not much uniqueness from theme to theme.
But it's not a big deal because you can always play around with the theme to personalize your store. With the "Style Editor" function, you can get creative with things like colors, fonts, carousel, etc. And the new page builder tool mentioned above even makes the process easier, without having to understand codes. It gives you instant control over everything from background colors to logo positions, the number of featured products, navigation arrow colors, and more. If you have a developer background, you can also work with the CSS and raw HTML to update your theme too.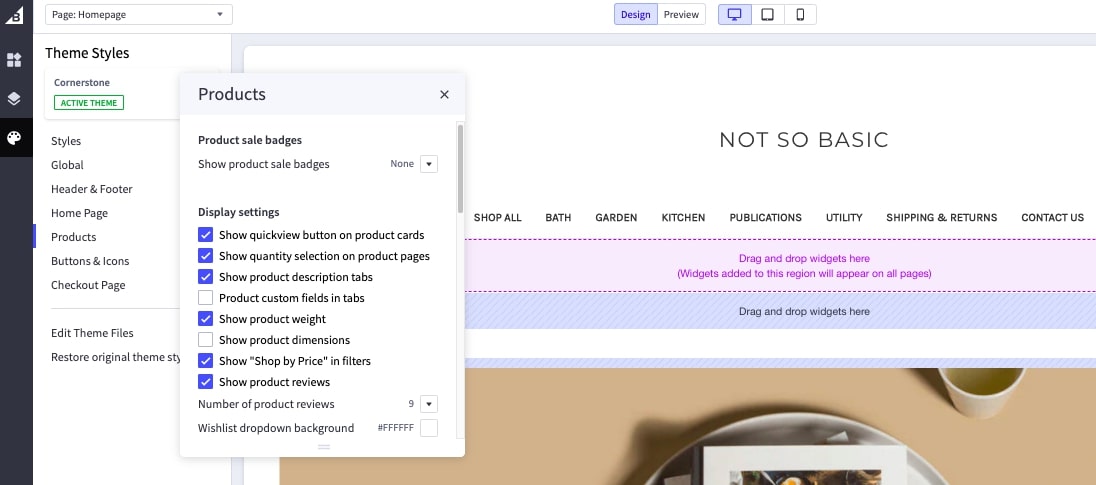 8. ECommerce Features
Without a doubt, BigCommerce offers many necessary eCommerce features that an online store will need. Here are some of the most outstanding features that differentiate BigCommerce from its competitors.
BigCommerce allows you to import products, set up inventory tracking, update stock levels, and understand order trends over time within a few simple steps. Tracking inventory between online and offline channels is easier than ever with its seamless native managing tools. Apart from that, you can edit every little detail about your products as you want. And even better, BigCommerce is the only platform where you can sell products, downloads, event tickets and services, without having to pay for third-party apps.
Bigcommerce advances the process after the visitor clicks the buy button to the next level. The platform allows you to process orders, print invoices and packing slips. Basically, it handles the order throughout its path to fulfillment. This is very important functionality, especially for stores with multiple products.
The multi-currency feature helps BigCommerce to stand out as one of the leading platforms for global businesses. BigCommerce partners with 5 popular payment gateways that support multi-currency for you to choose from. This feature allows merchants to improve their cross-border sales since the currency will be automatically converted into customers' native currency. The best thing is, the multi-currency functionality is available for all pricing plans at no extra cost.
Multi-channel is also necessary for a growing eCommerce store. Since reaching out to customers has never been an easy task, having this feature integrated into your store is of great importance. With BigCommerce, you can sell on multiple spaces such as Facebook, Instagram, Pinterest, eBay, Amazon, and more. And you can keep track of all the sales from those websites using BigCommerce's data reporting tools. These tools help to point out trends, tracking performance, conversion rates, etc. – all from your dashboard!
The good news is that BigCommerce offers a wide range of shipping options, including real-time shipping quotes for higher BigCommerce pricing plans. Additionally, it has an all-in-one solution for shipping tools. There's a free app called ShipStation that allows you to get special discounts with leading companies like DHL, USPS, Fedex, and more. You can also keep your customers happy by providing them with things like in-store pick-up, next day delivery, shipping tracking, free shipping, and more.
In March 2019, BigCommerce announced a new shipping solution for those who crave more discounts and an easier setup. It includes faster shipping from FedEx Express; displaying shipping rates on your website; improved accuracy of its live rates; more discounted rates from UPS, USPS, DHL, and Fedex; and an automated area to configure your shipping. But the highlight is that you can easily manage all your shipping functionalities from one central hub.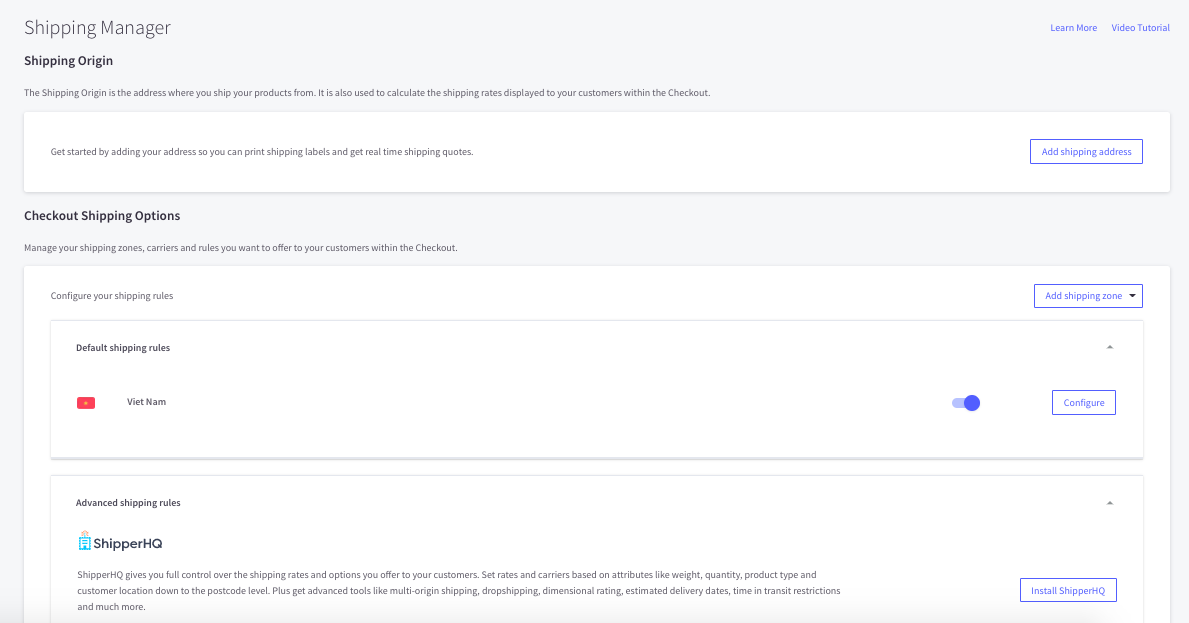 Moreover, BigCommerce allows you to set up your tax calculation rules. Or another option is to connect with a third-party tax service to automate tax calculation and document submission. Both ways are very convenient and hassle-free. And you can even display a label on your page stating whether your price includes tax or not. This will avoid any unnecessary misunderstanding with your customers.

BigCommerce has recently changed its checkout module. It now offers access to its Checkout SDK, or a library filled with JavaScript elements for your checkout. With this new feature, you can customize every part of your checkout page, from the background images to the number of steps needed for a customer to move through the process. Keep in mind that the Checkout SDK is only supported with the Optimized One-Page Checkout control panel setting.
9. SEO & Marketing
BigCommerce offers quite a nice range of marketing tools to promote your online store. Some of the methods come at an additional cost while others are free.
Some of the main marketing features included in BigCommerce are:
Banners – You can use them for various promotional and non-promotional purposes. This will help capture your audiences' attention and highlight your main content.
Coupon Codes & Discounts – Especially handy if you're doing an exclusive promotion and want to share codes via email. It's very helpful in motivating buyers.
Email Marketing – The platform comes with powerful options like MailChimp, HubSpot, iContact and Constant Contact. with this function, you can build smart customer lists and to automatically send targeted messages, newsletters to avoid lost sales.
Abandoned Cart Recovery – When a customer enters their email and then abandons their products in the shopping cart, it can send an automated email to draw them back to their purchase. Based on Baymard Institute's 2019 research, the average cart abandonment rate is 69.57%. It's a very important functionality that will save you from losing revenue. A study points out that personalized emails are six times more effective than regular ones.
Google AdWords integrations – This allows you to promote your products on Google somewhat automatically.
Social Media tools – BigCommerce makes it easy to market your brand on social media. Simply add "Buy Now" buttons on Pinterest, Facebook, and Twitter to turn social browning into online buying.
Besides that, SEO is another strong point of BigCommerce. Its unique content delivery network loads your website pages much faster than other competitors. This enhances the UX of your website, and search engines take notice as well. Moreover, the built-in blogging function allows you to upload blog posts easily without having to buy BigCommerce apps to manage content. The administration panel gives full access to metadata, header tags, titles, and URLs so that you can customize your blog and information pages to make them SEO-friendly.
10. Support & Security
If BigCommerce does one thing better than the rest, it's online customer service.
When you sign up for a free trial, you'll immediately receive an email offering an appointment for a 10-minute call. In this quick meeting, the BigCommerce support team will discuss with you about your business, its goals, and how they can help you succeed. This alone is enough to beat other eCommerce website builders.
Other BigCommerce support channels available depend on what price plan you're on. By default, BigCommerce provides 24/7 phone, live chat, and email support. In addition to those, you can also make use of video tutorials – and even better, the BigCommerce Support Center. On this page, there're tons of resources to help you – from online forums to a knowledge base. And if you're totally new to the platform, definitely check out BigCommerce University. It has many series of informative videos to guide you through every step on how to succeed with your online store.
With the most expensive Enterprise plan, you can unlock priority support. This includes an onboarding consultant, and prioritized phone calls with instant connections to the most senior and highly-trained support staff.
With all that said, the community is more powerful than most other eCommerce platforms.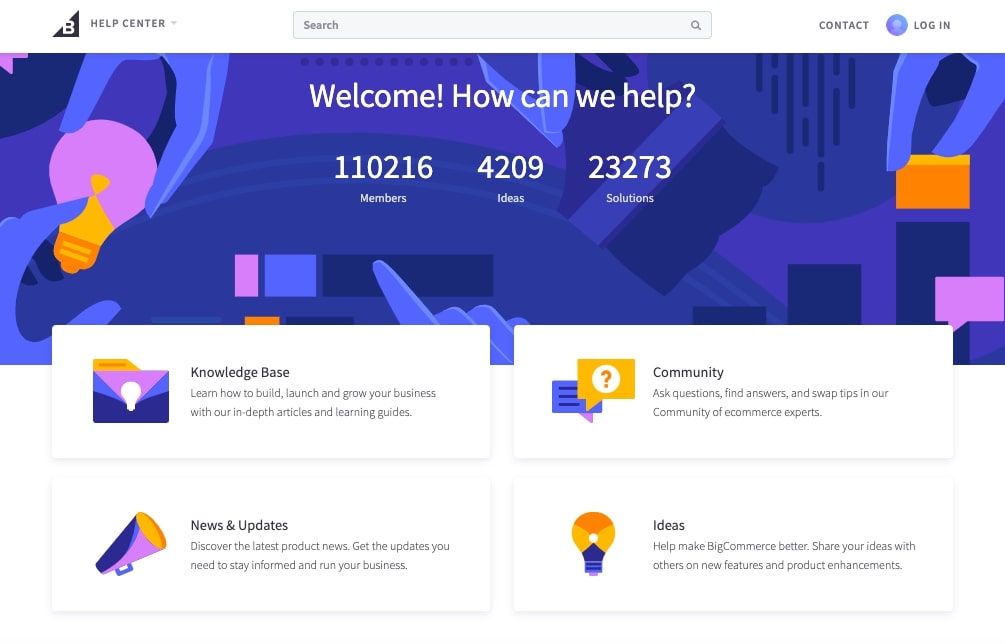 In terms of security, BigCommerce is also one of the best. All sites hosted on BigCommerce are level 1 certified PCI compliant. Hence, you don't have to worry about leaking your customers' personal and financial information. Your company infrastructure is also protected with an enterprise-grade network architecture.
Additionally, you can choose to either share an SSL certificate or buy your own. Basically, a shared SSL means that your checkout isn't hosted on your own website. It looks like it is, but the customer goes through a different route.
11. BigCommerce Review – Final words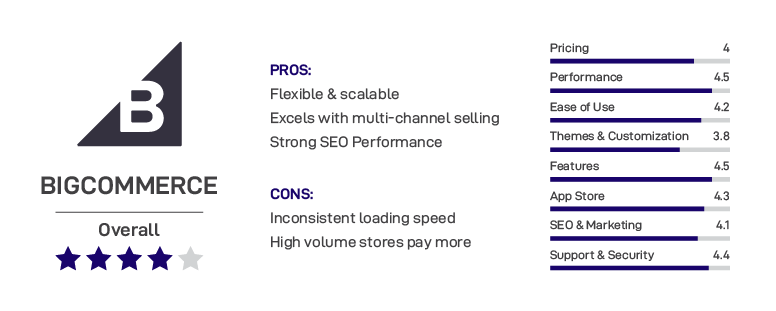 Overall, BigCommerce is a powerful hosted eCommerce platform that makes it easy for you to quickly create and operate your online store. It's renowned to be the perfect match for middle and large scale businesses. The platform still works nicely with small companies, but it's not the best choice since it may cost a fortune if you surpass its sale limit. If you are about to start an online business, there are many more suitable options out there. But if you already have one and are looking for growth soon, BigCommerce is a tough bargain to pass on.
If you already have a website of your own and are considering moving to BigCommerce, LitExtension can be your perfect partner.
We are the leading company in the shopping cart migration industry with almost 10 years of experience. Our job is to ensure merchants can make a smooth transition from one eCommerce platform to another.